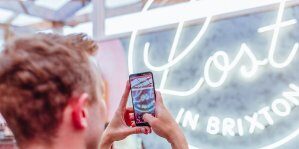 Lost In Brixton Permanent Build
The Halo Group was commissioned by Hondo, the owners of Brixton Market to undertake an architectural design and build project called Lost In Brixton which is now operated by Incipio Group. We take a look behind the scenes to see how this incredible project came to change the landscape of Brixton Village. PHOTO CREDITS: PASCO PHOTOGRAPHY 
Incipio Group say "Since 2015, Incipio Group has been specialising in creating large, new and exciting social venues concentrated around food and drink. With our target demographic in mind, our approach is to focus both on transforming temporary sites and permanent projects to provide fashionable and out-of-the ordinary dining experiences. Whether we build the site on a temporary or permanent basis, we grant short leases within the venue to restaurants that are on trend and popular with our clientele. In practice, our business approach means that we frequently change the dining, drinking and social experiences of our customers. No project stays the same for more than a few months with themes, restaurants and sites revamped and relaunched regularly to keep the venues varied and current."
Our architectural design and build brief was to create a temporary mezzanine structure with a lifespan of 3 – 5 years that could cover the rear of the Brixton Village service area from the market to the adjacent Network Rail arches onsite. The project started with a site visit before drawing up initial plans for the mezzanines foundation. Here, using guidance from our structural engineers we laid pad stones to support the frame once constructed.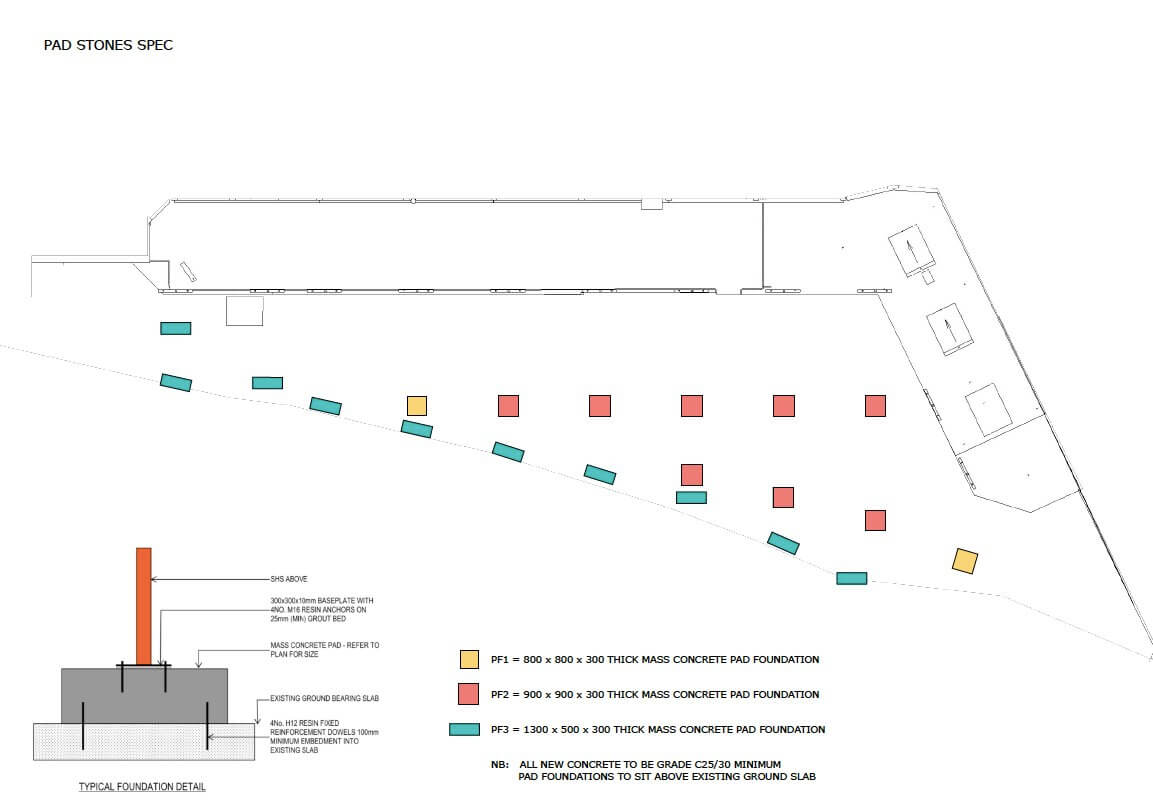 This architectural design and build project was made possible through the use of our modular steel frame system which we used to create the mezzanine. Our system is unique and offers many advantages over traditional construction materials due to its temporary nature, reusability and high load baring capacity. The system is ideal for short, mid and longer term projects where an installation is required for a number of years or where access is restricted as it doesn't require plant, cranes or heavy equipment for its erection. Its simplicity is ideal for projects like Brixton, where the schedule was tight as it helped reduce build time onsite through many efficiencies. Furthermore, as it can be dismantled, landlords are able to gain exceptionally high value for "meanwhile usage" of their sites.
After completing designs for the ground works our in-house team of designers set about creating the plans for the platform by plotting out the configuration of lightweight RSJ beams in the required grid formation.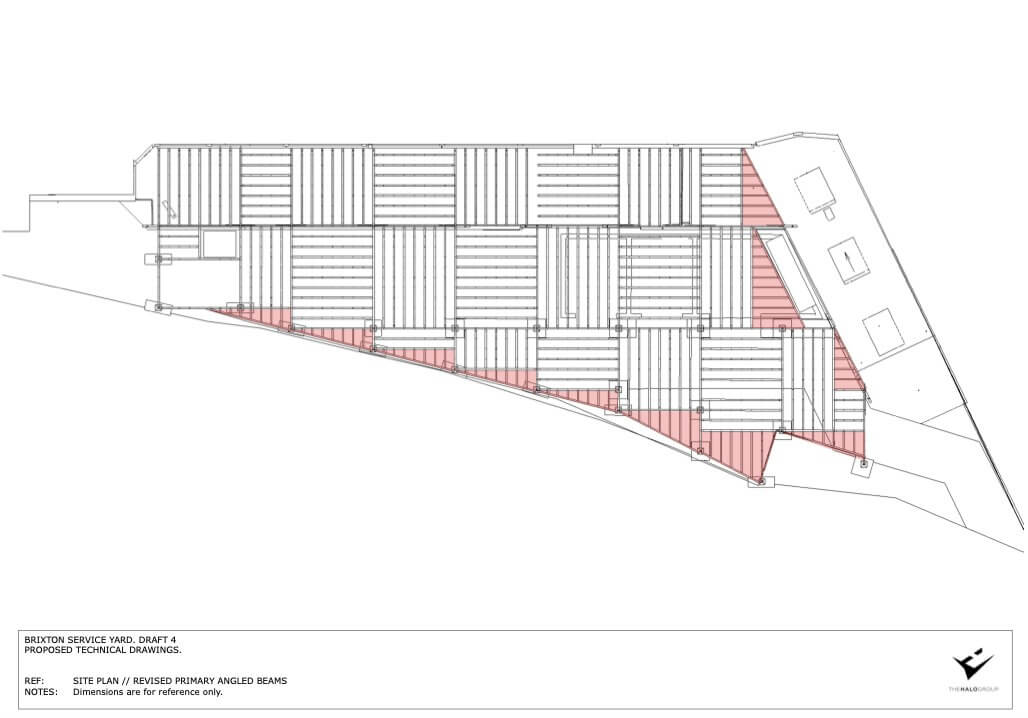 These site pictures show the mezzanine going in and how we used our steel build system to create this unique solution.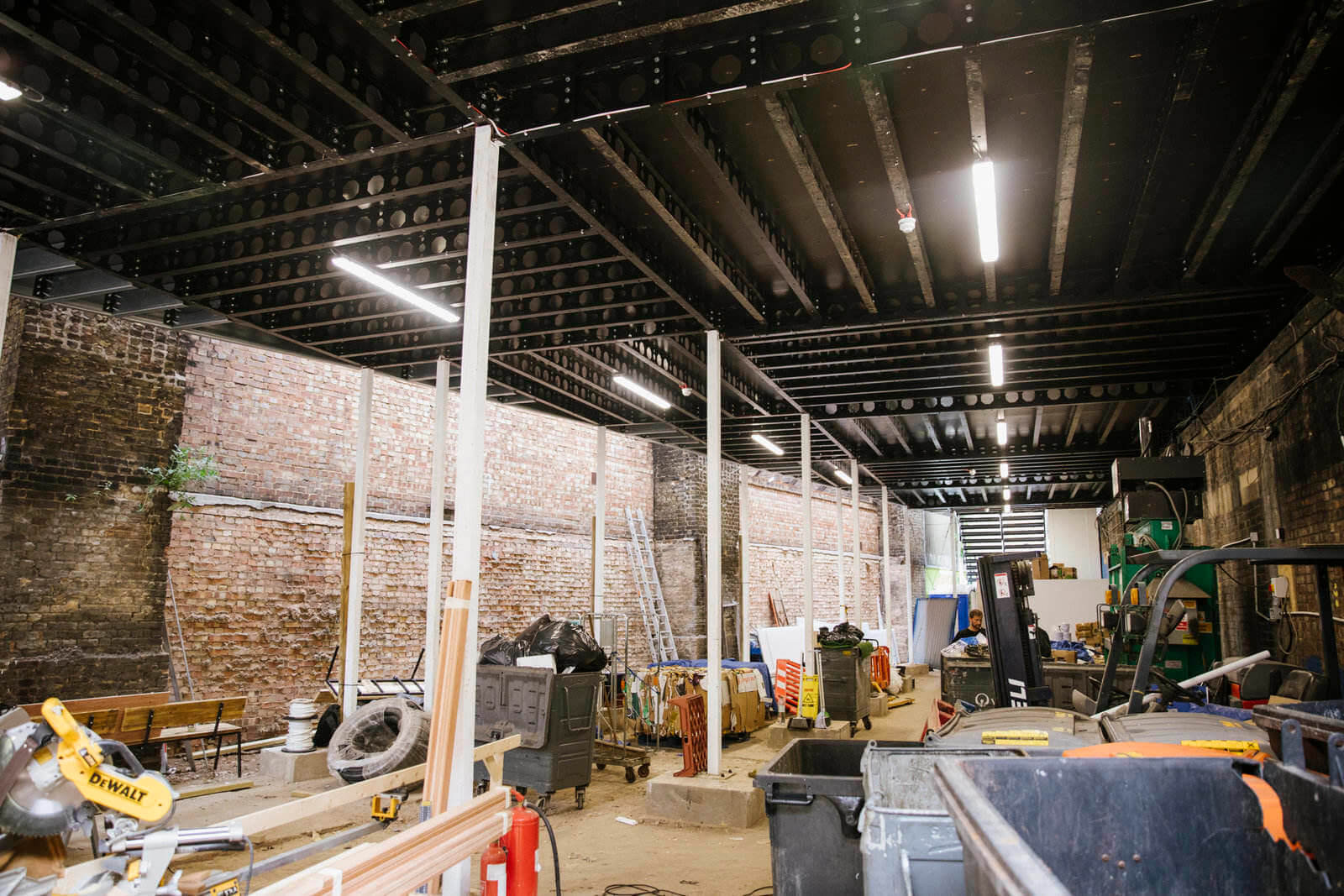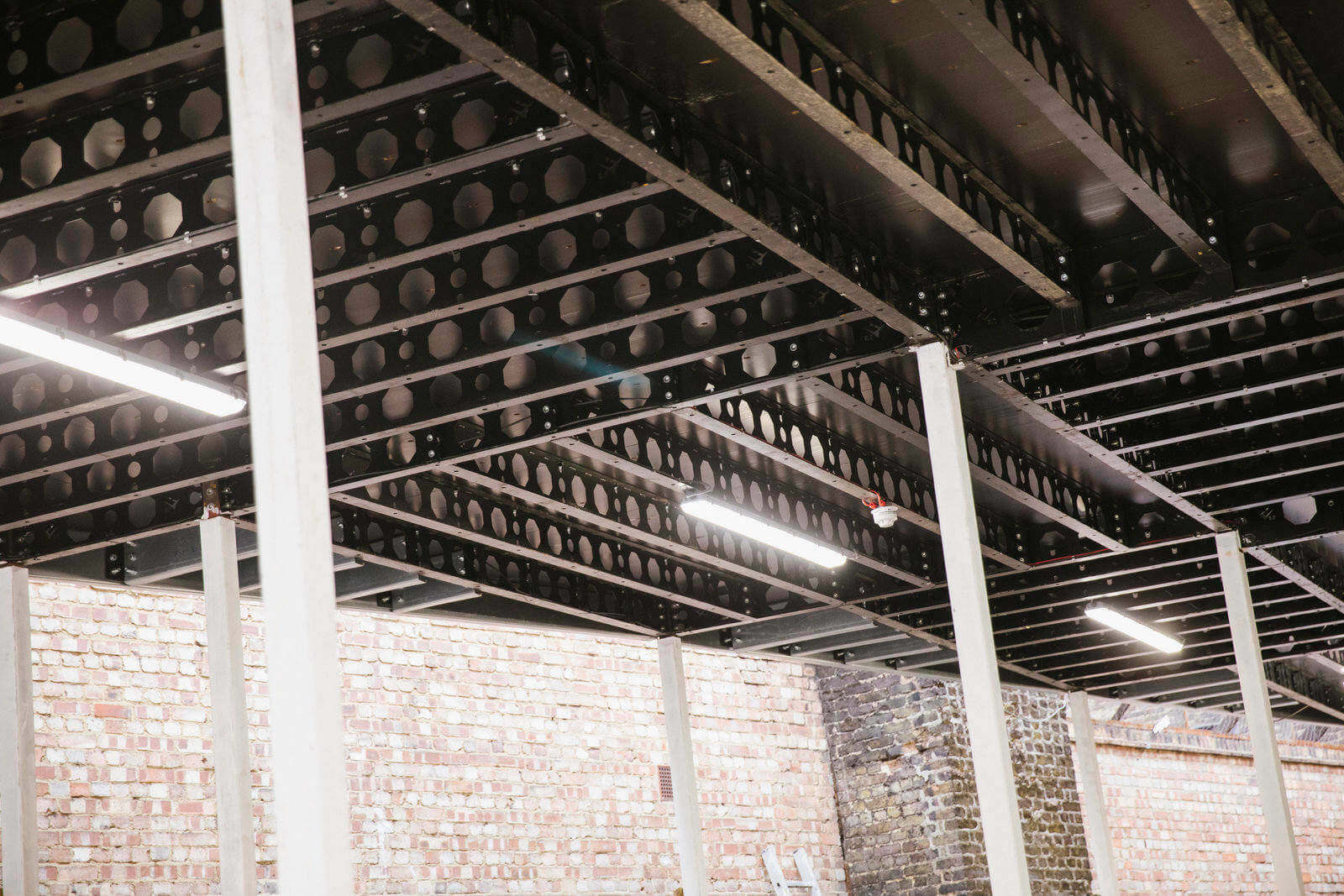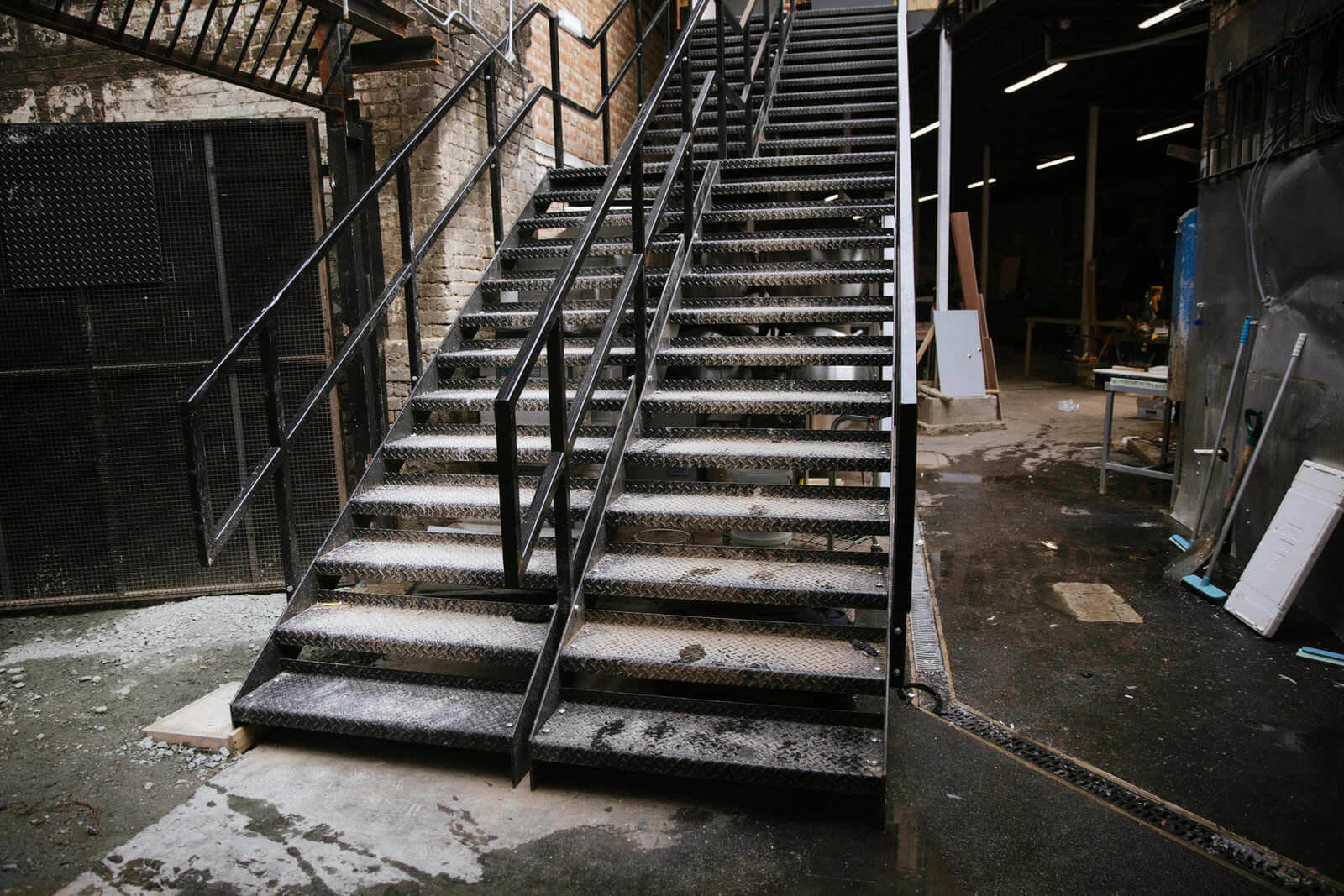 With the flooring framework mapped out across the space, the design process continued where initial 3D plans for the upper deck where completed. A significant amount of bespoke design was required to achieve the end result such as bespoke legs with higher load baring capabilities, widened support beams and many different specialist components.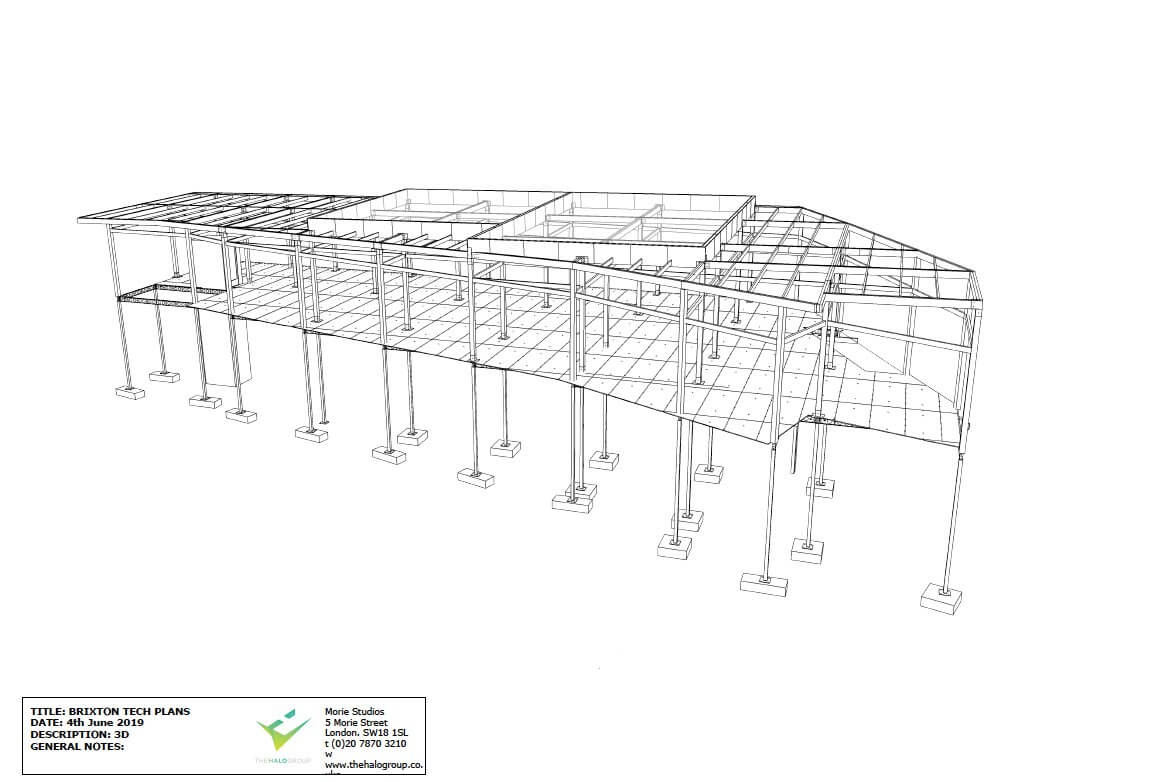 Mezzanine Design
A pergola style wooden frame work was then designed to support a bespoke specially commissioned retractable roof to ensure this incredible community space, bar and dining experience could be enjoyed all year round.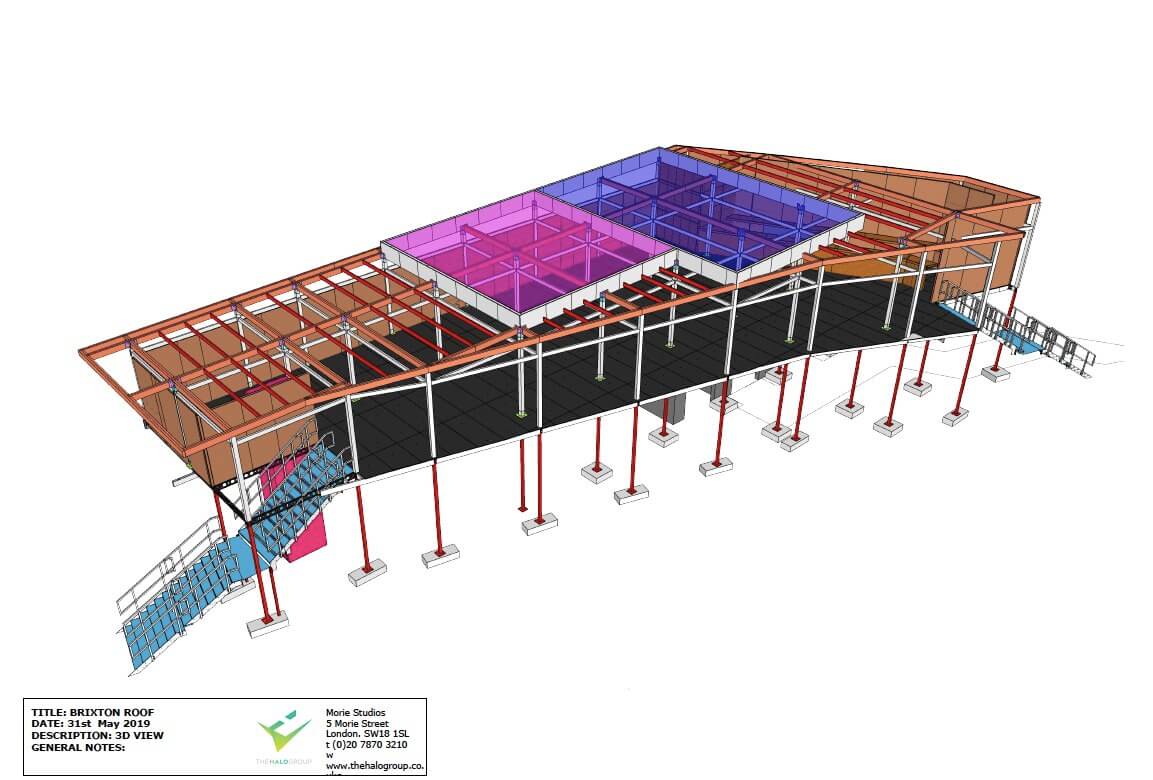 Bespoke Roof Design
As well as creating this striking platform, The Halo Group was also commissioned to design, fabricate, build and fit-out the temporary mezzanine venue in line with the creative concept, which was developed by our in-house team lead by Sam Matthews, our creative director. The Halo Group was appointed as principal designer and provided surveys, designs, fabrication, manufacture & installation services for the project in-line with CDM 2015 Health and Safety regulations. To achieve the end result, our designers created a range of 3D visuals to truly bring the design to life. Our designers work in a range of programmes including Cinema 4D, Vector Works, Photoshop, Sketch Up Pro and CAD and are able to create digital renders of the highest quality as seen below.
Once signed off by the client, our team of carpenters, fabricators and skilled tradesmen laid premium wood decking, created the pergola style framework to support the roof and installed the bar.
Venue Fitout
Once the construction phase was complete our team worked in partnership with local artist Nerone to create a 3D Art mural wall and installed a striking 3D geometric birch ply & Di-bond wall with mirror inserts. The main bar design was created from treated cork which was contour cut to form a layered 3D effect and fitted with a Terrazo effect pastel worktop. To complete the look of this stunning architectural design and build project, a series of neon signs took pride of place in the main bar and stairwell. The entire space was dressed by our production team using artificial jungle foliage, thick jungle vines, cork trunking and a selection of rustic driftwoods. Hanging feature planters, suspended planters and standing planters in bamboo, wicker & Macrame housed a mixture of artificial and real plants to bring the space to life.
The end result? As Incipio Say "Our large-scale terrace is designed for escapism with pops of bright colour, and design inspired by travel and discovery to create a place for people to gather, dance, and get away" We are proud of our involvement in this amazing project and as these pictures show, we certainly feel we hit the brief.
Our team worked tirelessly to ensure this concept was a success. By the end of the project, a ramshackle refuse area at the rear of the market had been completely transformed, as shown in the before and after shot below.