The
Halo
Structure
Initially designed, tested and fabricated for the events industry. Our modular structure meets the needs of the fast paced events world and can be built quickly, efficiently and safely.
We quickly learnt how valuable the system is across many sectors as it offers the flexibility of a temporary structure with the structural integrity of a permanent building. Passionate about innovation, we are constantly striving to improve the system.
Structure Models
Explore our standard structure models
our
sectors
We are masters at creating spaces that deliver experiences across a wide range of sectors. Our structure offers the ideal solution for creating temporary structures, viewing platforms, mezzanines, workshops, warehouses and secure buildings.
Often referenced as a grow mans meccano set, the Halo system expands outwards and upwards. Mezzanine and platforms can add height up to three stories high, creating additional capacity and for events premium raised viewing platforms.
Steel
Structural Integrity
Our steel beams have a high loading capacity, we have hosted parties and cars up on our mezzanines. The individual components are lightweight making them easily transportable by hand onsite. The long life span of the steel makes all elements reusable.
aDJUSTABLE
Levelling System
The unique baseplates and levelling system allow our structure to built on uneven ground at any site, from carparks to fields to beaches.
Multiple
Fixing & Rigging
points
The design of rivet nuts in the legs provides fixing points at varying heights to rig equipment, decks, stages and walling. The beams have been designed to provide multiple rigging points for lighting and equipment.
Variety
of cladding options
The possibilities for walling and cladding are endless. Choose from fully insulated walls, to feature fabrics and cladding. We strive to use reusable and sustainable materials, the way we fix to the structure means it's simple to interchange and reuse branding and walling.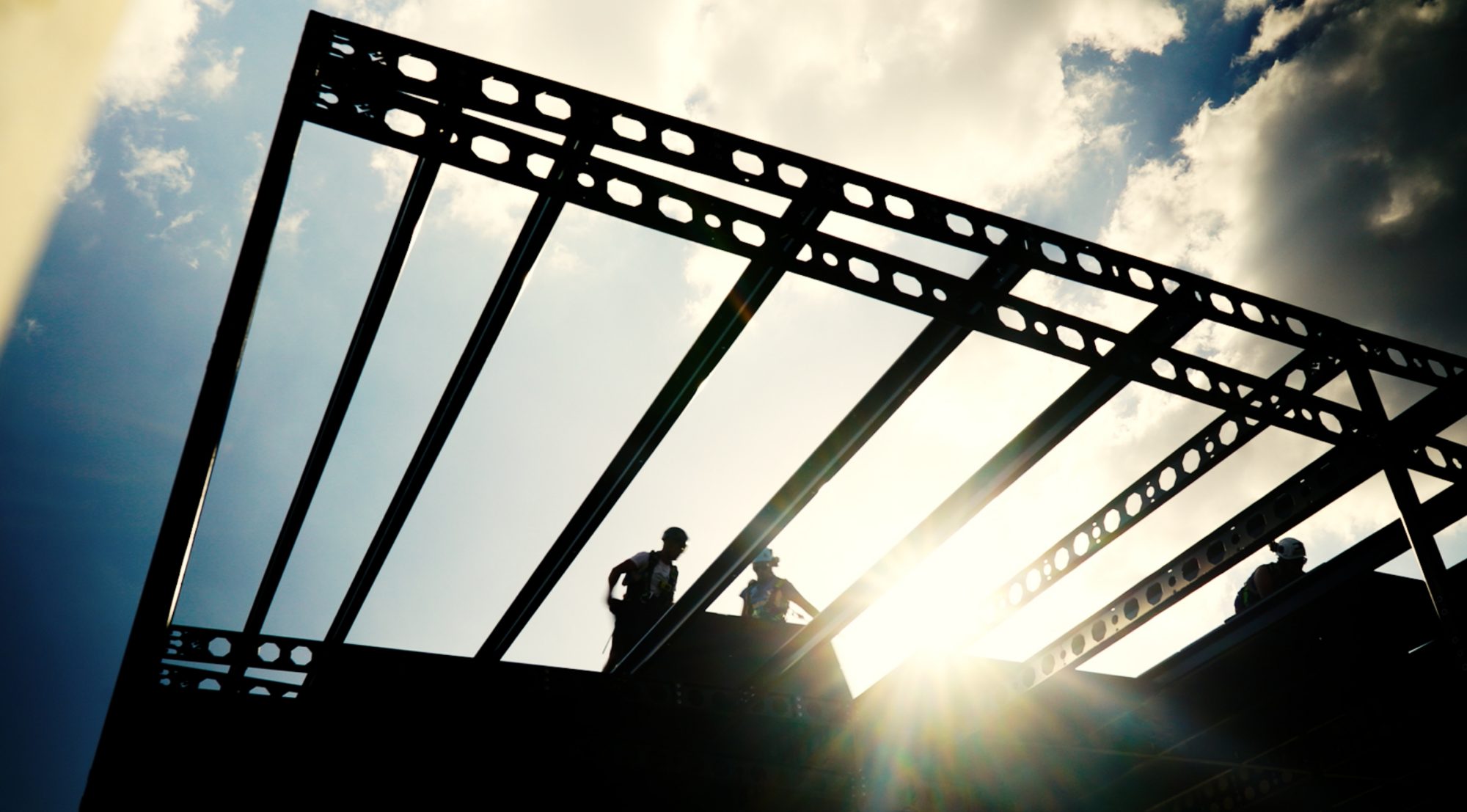 Sustainability is high on our priority list. The Halo steel structure system is fabricated in the UK and with our regular servicing and maintenance, each component retains a minimum 10 year lifespan. Plus the modular nature of the kit, means every component is used multiple times on many different builds.
Welded at our fabricators to the exact specifications of our structural engineers.
Every component is checked regularly to maintain quality and finish. Guaranteeing a 10+ year lifespan.
Designed in-house and then laser cut at one of our UK suppliers.
When a component does reach the end of its lifecycle its melted down and the raw materials goes back into the steel production industry.
Of The Halo Structure System