Exhibition Stand Design - Genelec
This week's blog features a behind the scenes look at our recent exhibition stand design at IBC in Amsterdam for Genelec – the world leaders in studio monitor design.
Genelec's design philosophy is based on sustainable development and environmental values, using industrial design to serve their products' acoustical performance. Their philosophy states that they "aim to deliver performance-driven, tonally neutral speaker and subwoofer systems for audio professionals and enthusiasts. In our quest for this ultimate goal, we strive to improve all aspects of our products' sound reproduction qualities which leads us to continuously develop innovative technologies and revolutionary designs" These principles mirror many of our own so the project represented the perfect partnership.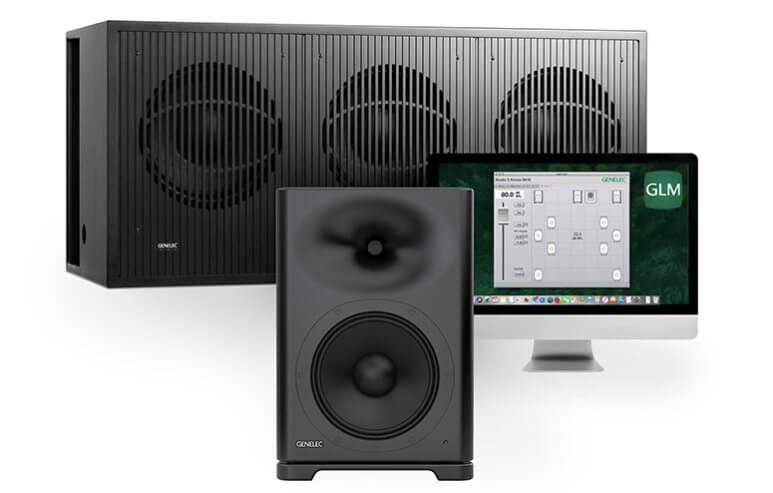 Genelec was introduced to The Halo Group by KRMB Management, consultants to the world famous Metropolis Studios in London. Genelec provide equipment to Metropolis, and through their association with KRMB Management it became clear they required an innovative solution for their exhibition stand design at the IBC show in Holland. The Halo Group specialises in  bespoke temporary structures for exhibition stand design projects. As such, we were commissioned to create a sound isolation booth that would enable Genelec to showcase their audio products at IBC in a completely new way. As with most expos there were significant sound level restrictions in place at the venue, so our brief was to provide a solution that would decrease the audible sound outside the booth whilst allowing for far higher volume levels inside. Our exhibition stand design achieved a reduction of 40db which enabled Genelec to showcase their products more effectively than ever before.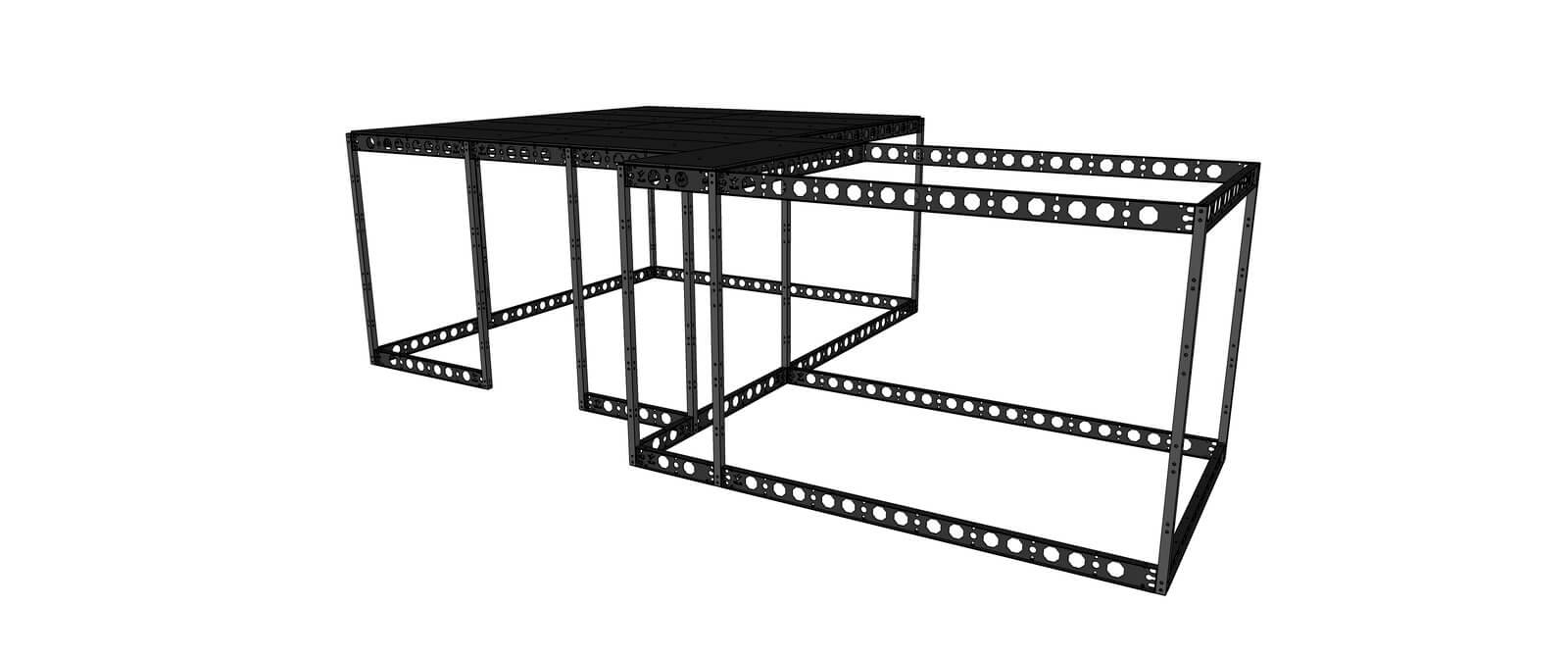 Our concept started with our unique modular steel system. This was used to create the support for the acoustic panels and cladding. Our system can support heavy production and offers the ideal solution for complex builds or unusual briefs. Its flexibility allows for prefabricated panels to be quickly affixed to our frames or alternatively efficiently clad on site.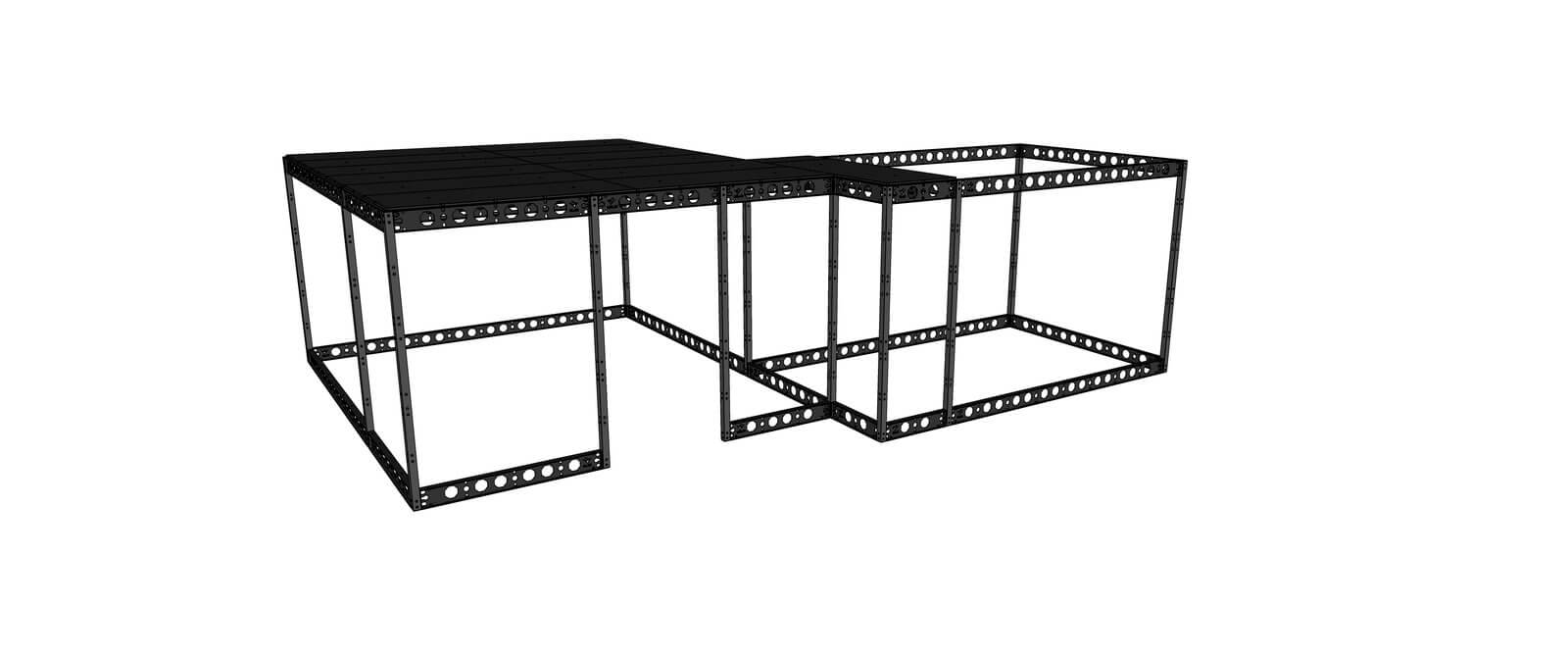 Once the footprint and stand layout was signed off, our in-house design team created 3D renders and concept visuals for the client. Natural recyclable materials were used wherever possible such as wood panelling and cladding detail which echoed Genelec's ethos on sustainability and also helped to create an appealing aesthetic.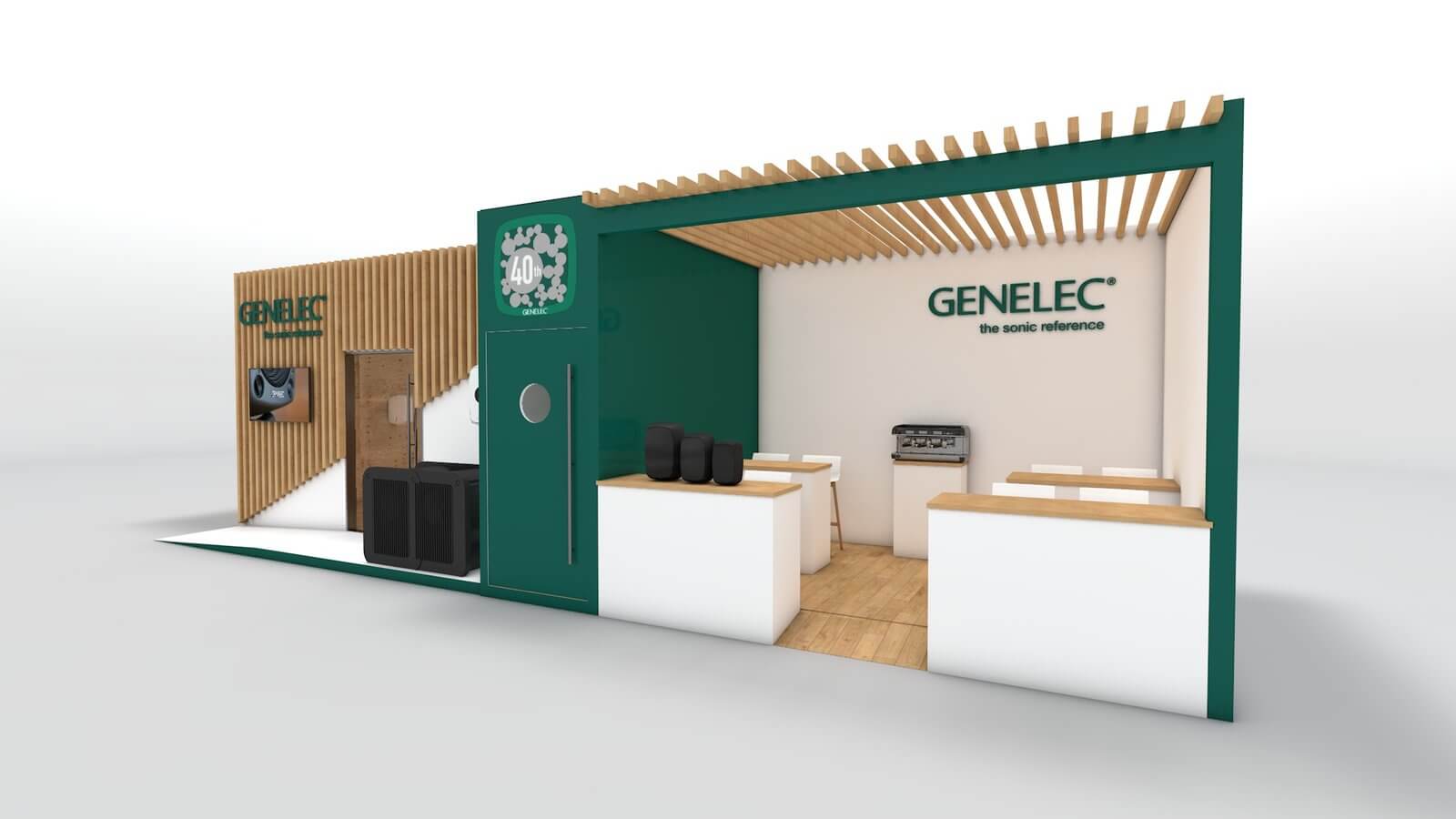 Although our finished design featured a solid roof, an aerial view of the structure shows the layout of the stand and the sound isolation booth feature as shown below.
In the lead up to the event, our set builders, carpenters, structure specialists and exhibition stand design team worked up detailed plans for the cladding before prefabricating all items in our London workshop.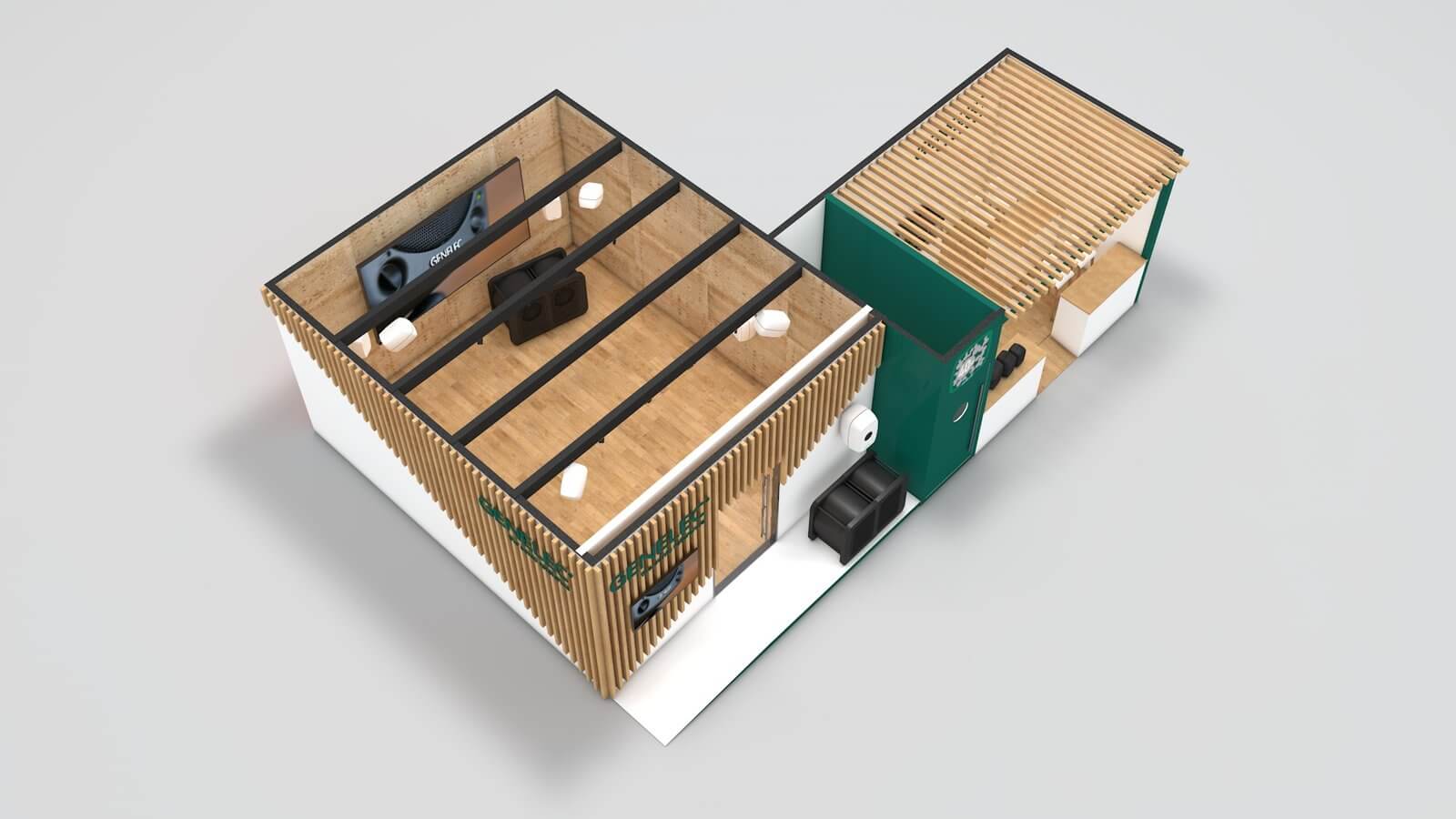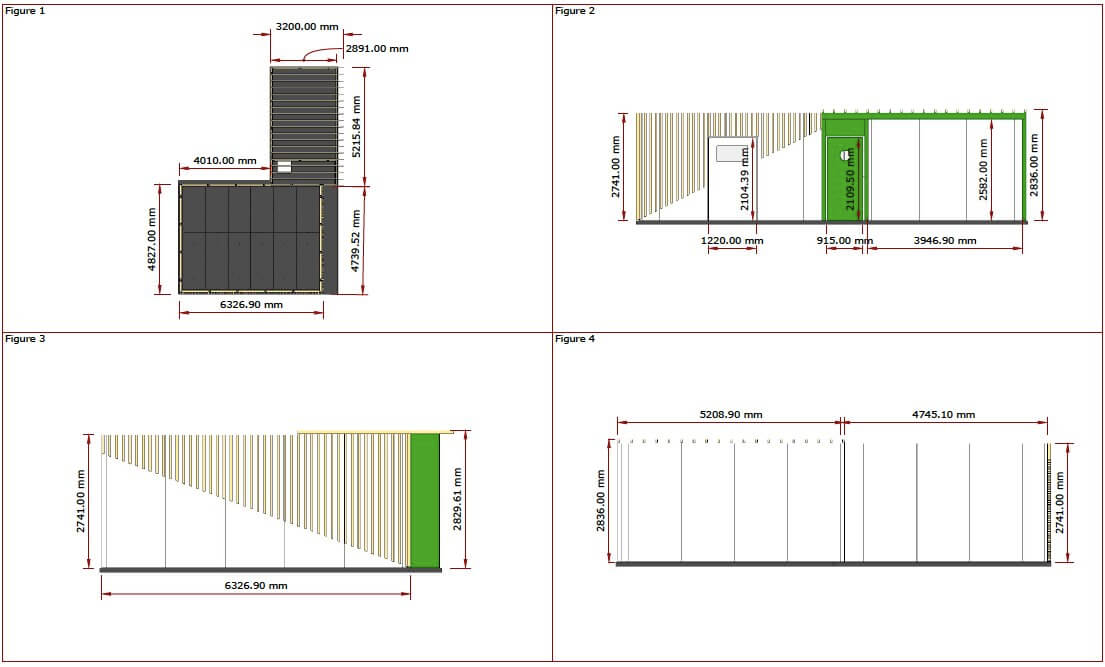 To achieve the end result the listening room was created by constructing double sided studwalls with inbuilt acoustic insulation panels. The total thickness of the walls was 420mm to create the best possible sound isolation for the spec. Each panel was then hand finished in satin white. For the external decorative cladding, our team of set builders machined 50mm laminated veneer LVL timber battens which we used to create the desired look and feel of our exhibition stand design at the show. The interior of the listening room was further clad in a wood finish, wood effect flooring and enclosed by an acoustic door panel for further sound insulation. A separate meeting room and storage area was styled in the same finish before the application of a Genelec branded print measuring 5mx3m in the Genelec green Pantone.
Our client Genelec experienced many benefits of using our system for the first time and we plan to roll out the concept at further shows in the future.