TRO & MINI EVENT STRUCTURES
The Halo Group provided temporary structure hire services to TRO who were representing Mini at the 2019 Goodwood Festival of Speed. The agency used our products and services to provide technical solutions to achieve the campaign's creative, which celebrated 60 years of Mini. 
MINI brought serious style to the 2019 Festival of Speed with their "Electric Avenue" activation. With the MINI John Cooper Works GP Concept on show and the inclusion of the MINI Electric closed room, there were so many reasons to take a walk down Electric Avenue. Here attendees were able to enjoy Mini's handcrafted street scene, which housed a host of shops and experiences such as the Mini Lifestyle Shop, Murdock Barbers and the Mini Drivers Club roof terrace amongst other features. Lead agency on the campaign TRO approached The Halo Group to provide a range of temporary structure hire services to help achieve the creative. TRO provided a clear brief with a series of detailed concept renders for us to work from.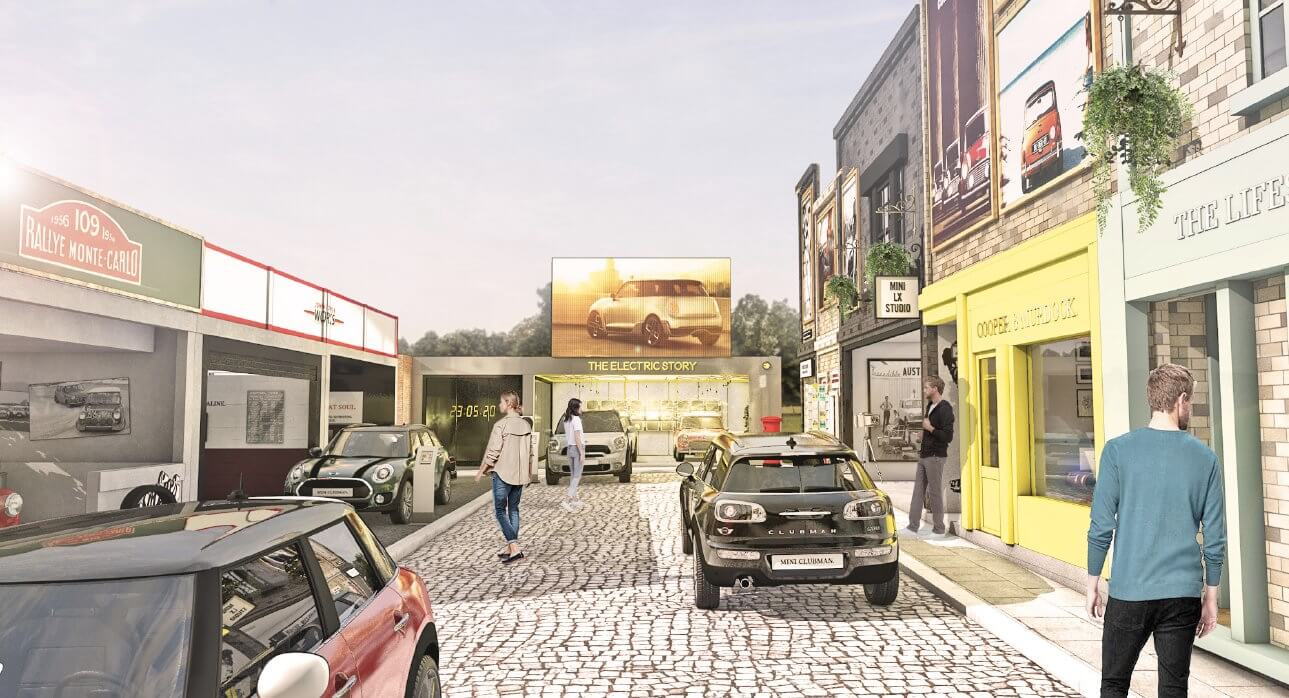 Our temporary structure hire products represented the ideal solution for the project. Our brief was to create a structure frame with a mezzanine viewing platform on the top deck. The structural solution needed to be highly versatile to accommodate a wide range of decorative finishes and needed to look and feel like a permanent building on site. Our system has many advantages over traditional marquees and other event structures. It is the most customisable product on the market and can be adapted to suit most briefs. For the Mini project, our structural engineers needed to design a frame to support both the high footfall anticipated at the event, a mini car and a range of heavy cladding. The process started in our offices where we utilised our industry leading knowledge and expertise to create the subframe for the project.
As an agency, The Halo Group offers a full production service but we are not precious about the scope of work we take on. Event structures are our passion and we are equally happy to fit in where our clients need us. For the Mini project, we operated solely as a structure supplier with 3rd party tradesman providing the decorative finishes. Our system is easy to use as it features fixing points on every component. This allows for any form of cladding, production, lighting, AV and so forth to be affixed directly to our frames. We provide a detailed set of technical plans with all our structure build projects so 3rd parties can prefabricate ahead of site or quickly and efficiently build onsite from our drawings.
The Mini project at Goodwood Festival of Speed was a huge success and it was an honour to be involved. We would like to thank our client TRO for the opportunity and we look forward to many more collaborations.