Our latest hospitality design project at Draughts Cafe has seen The Halo Group's reputation grow within the commercial interior design sector. Draughts Cafe is situated in Leake Street in a former railway arch next to a famous Graffiti Tunnel in Waterloo. The tunnel has been brought back to life to provide a collection of independent bars, restaurants and entertainment spaces that celebrate urban culture. Following investment into the sensitive restoration of the railway arches as well as the introduction of a new, state-of-the-art lighting system, (designed in collaboration with graffiti artists to better showcase their work) Leake Street has become home to seven new independent businesses including Draughts Cafe.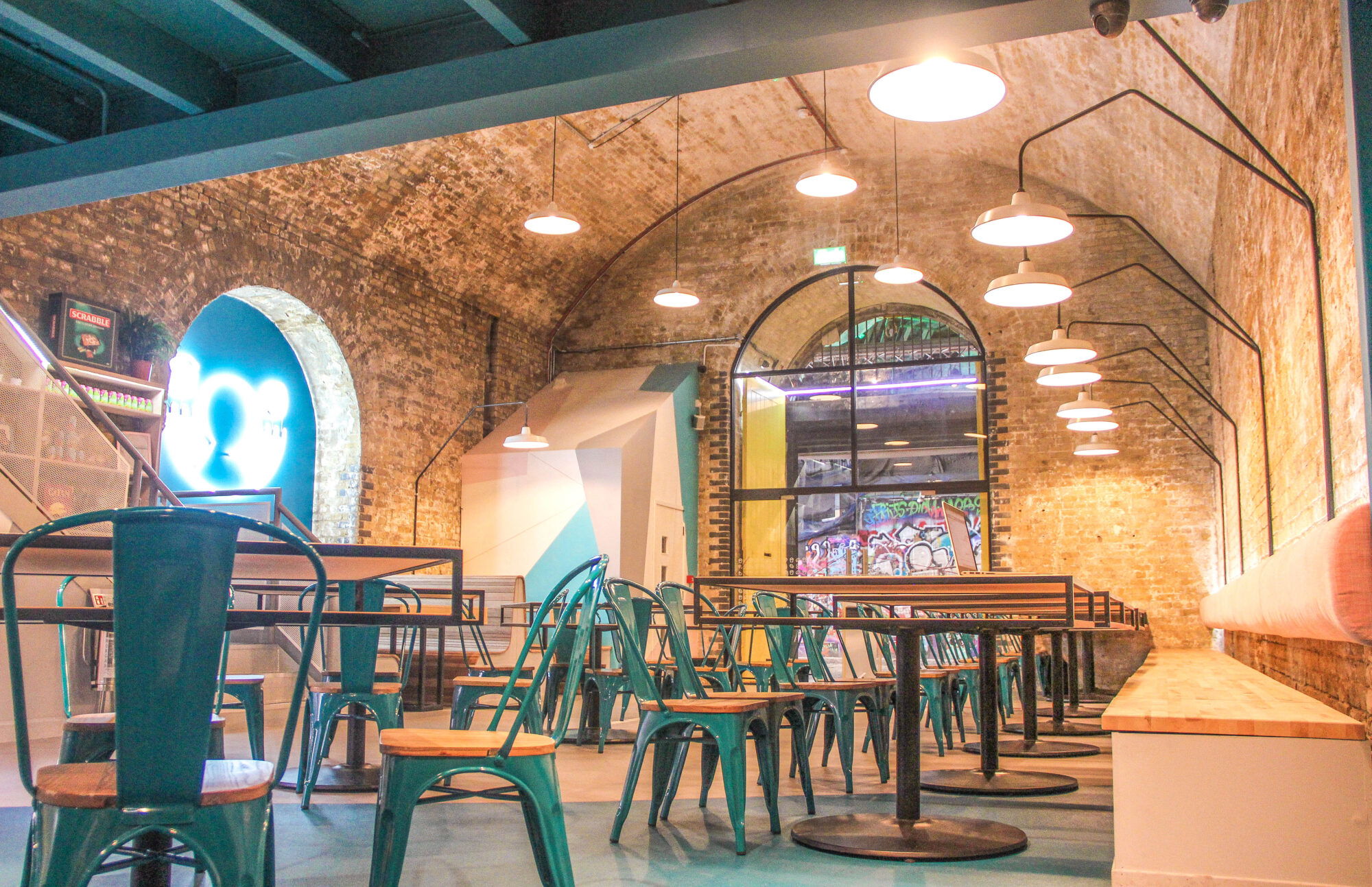 The space houses an incredible array of board games with over 900 on offer and includes a large bespoke library section running both underneath the mezzanine and snaking up the staircase onto the open plan landing. There are two bars located in the premises, the main service bar on the lower floor and the specialist cocktail bar upstairs. A fully functioning kitchen has also been installed to cater for individual guests and larger functions. Large booth tables flank both the ground and upper level allowing for groups ranging from 10 – 14 people. This exciting hospitality design project utilised many of The Halo Group's key services to create the end result.
The project brief was to provide a full turnkey solution, converting the 2000sq/ft brickwork double volume arch on Leake Street into the latest exciting venture from the team behind Draughts London. Our client wanted us to create an interior that was warm, welcoming, engaging and easy to navigate. The mezzanine structure was a key part of the brief, which maximised the use of the space and helped create a more flexible event venue. The Halo Group's brief included the design, styling and installation of all elements of this hospitality design project.