Ramblin' Man Fair Festival
The Halo Group's events structures are unique. We specialise in temporary venues and festival and event infrastructure. We provided our products and services at the inaugural Ramblin' Man Fair which took place at Mote Park in Maidstone Kent. This newly founded 15,000 capacity festival wanted to make a statement from year one so enlisted The Halo Group to create something truly special.
The Halo Group's events structures are renowned within the festival industry and this exciting opportunity represented a chance to showcase our products and services in a brand new format. The Halo Group was also responsible for all creative production at the event, including the merchandise area, way-finder signage and festival decor.
The

Brief

A key part of our brief was designing a range of events structures to house the VIP area, merchandise area and other key features onsite. The VIP design saw an imposing 20Mx5M two-tier temporary venue housed beneath a giant black stretch tent which created the most recognisable focal point on site. This premium installation gave festival VIPs a luxurious experience and provided a destination hub for those lucky enough to have access at the event. Clad in waney-edge timber and distressed wood, the VIP took inspiration from vintage Americana and other rock influences. The Halo Group created a series of bespoke vintage style signs, chevron clad bar units and a range of specially commissioned installations as well as providing creative styling, production and set building services in the VIP and across site.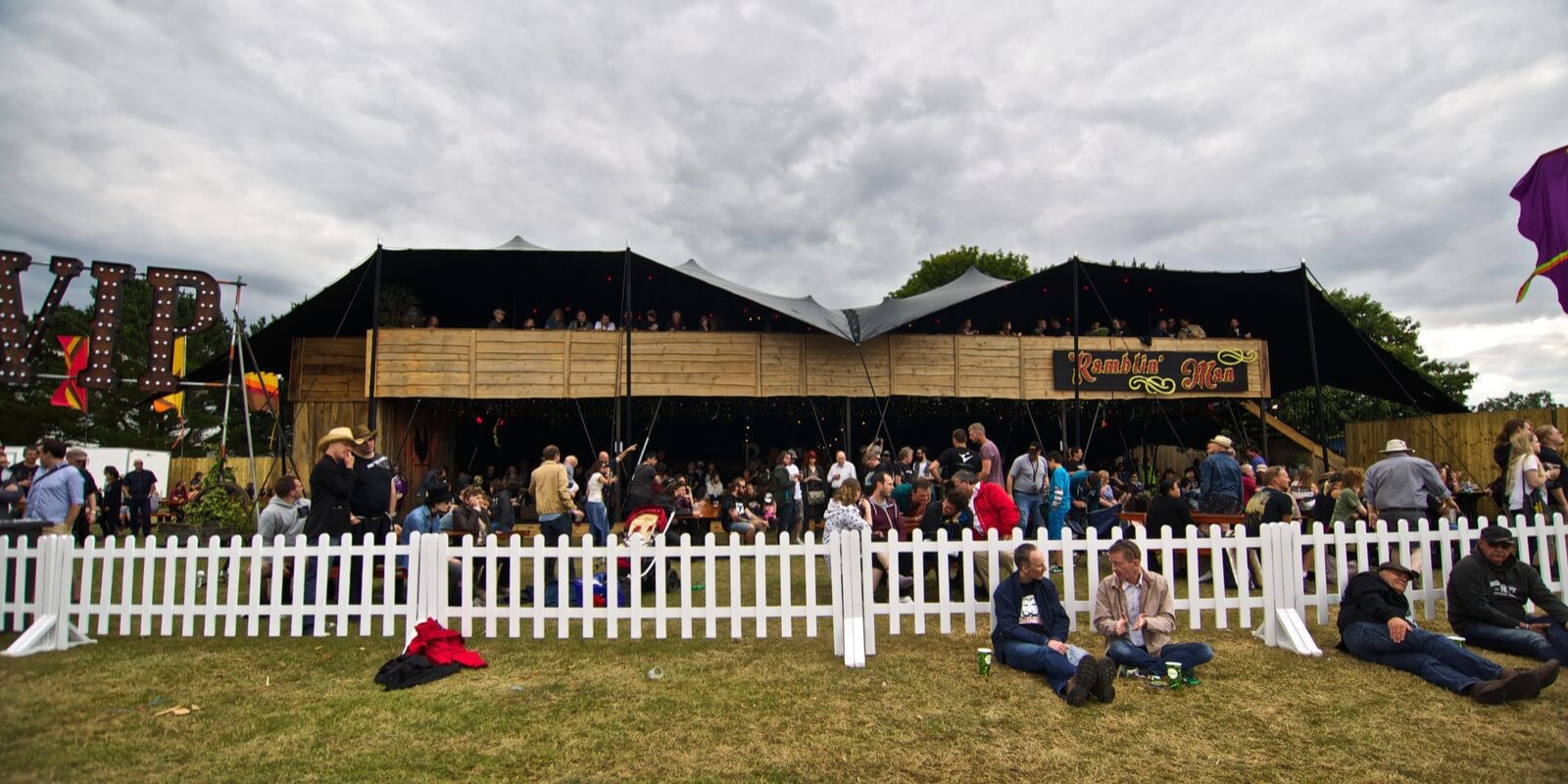 The

Solution

The interior of the structure featured shabby chic leather style sofas with rich red cushions, low level booths with matching soft furnishings, bespoke coffee tables made from natural materials, retro-style barrel poseur tables and industrial metal cocktail stools. Festoon lighting was then draped inside the interior to create an intimate atmosphere after dark, where guests were invited to relax and take in the ambience. A selection of rock memorabilia adorned the walls and tabletops whilst living foliage helped give the VIP the look and feel of an established building that's become part of the landscape, full of character and charm.