The Halo Group specialises in exhibition stand design. In 2017 we worked in partnership with Gap Inc at Graduate Fashion Week in London where we designed a booth for the clothing label at the show.
Now in our second year of partnership working with Gap Inc, this year's brief took on a brand new creative direction, look and feel. Global clothing brand Gap Inc was exhibiting at the event as part of their recruitment programme aimed at graduates wanting to work or further their careers within the clothing retail industry in the USA market. Their exhibition stand design helped promote this at the event.
The

Brief

Our brief from the client was to create a striking exhibition stand design that would make an impact at the event and effectively communicate the campaign messaging and help to promote their incentive programme. As a additional consideration our design also needed to raise awareness of the brand itself. With many experienced exhibition stand builders onsite working for other brands – our client asked us to create something which would make their booth really stand out at the show.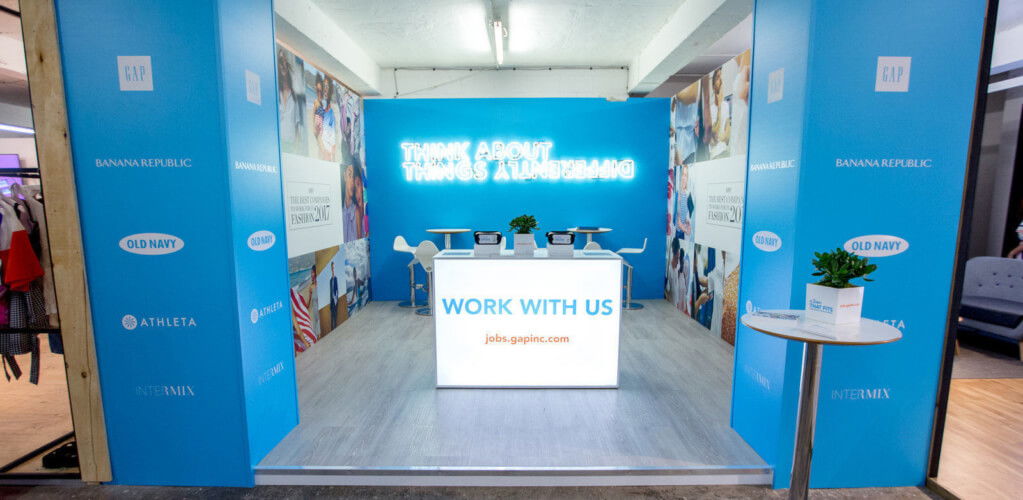 The

Solution

As experienced exhibition stand builders, The Halo Group understands the art of making use of limited space. To achieve the end result, our production team started by building a raised deck before constructing free standing walls using stud detailing and birch timber flats. Once erected, our production team clad the structure in blue and white Dibond. Wood effect flooring was also laid to help create a premium look and feel. Once constructed and clad – logos, creative messaging and branded imagery were applied using a mixture of printed fabric and vinyl stencils as well as a bespoke neon sign which was installed on the back wall. To complete the look, a specially commissioned LED illuminated reception desk helped the design really pop at the show. To furnish the stand, a selection of poseur tables, bar stools and other dressing elements were incorporated to give a high end feel to the overall production.