MasterCard Brand Activation
In 2016 we worked with London based agency Octagon on behalf of their client MasterCard who were one of the sponsors of the UEFA Champions League. This exciting project used many of our core products and services to produce a spectacular activation for the end client and the public to engage with.
Our proposal utilised our unique modular build system to create a temporary structure to support the creative production elements required for the project. Against the backdrop of the Champions League final, our imposing design really made an impact with those lucky enough to join the MasterCard team at the event.
The

Brief

Our initial brief was to propose a solution to achieve a 2 storey structure which could be fitted out with a bespoke interior and provide a blank canvas on the exterior for the application of MasterCard's campaign branding. Customisation was a key part of this brief so our team set to work to help MasterCard achieve something truly memorable.

Various temporary structures for events were considered prior to approaching The Halo Group however these alternatives lacked the ability to provide a completely bespoke solution for the project. With different finishes featuring on the exterior and interior, the solution needed to be tailor made. The client also needed a structure which could support a large outdoor display screen which would be directly attached to the frame. Very few temporary structures for events or temporary venues are able to achieve this without scaffolding, truss work or additional support so our proposal needed to answer this important part of the activation's criteria. Further bespoke elements also needed to be incorporated into the design such as fitted windows, storage areas and other features so a modular solution was essential to answer the brief.

The first step to answering the brief was to produce visuals to illustrate to the end client how their branding would look attached to our frame system. Using our specialist build knowledge of temporary structures for events, we built a model in Sketchup before rendering out the final visuals in Cinema 4D for demonstration purposes. Once signed off by the client our brief was to recreate an exact replica onsite.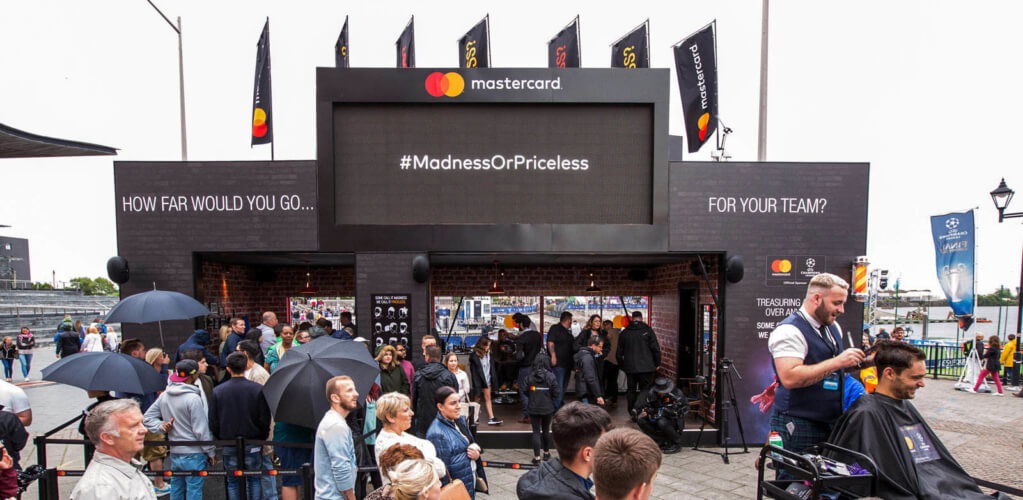 The

Solution

On the MasterCard activation, we designed and built the structure frame as well as fitting the structure's cladding, flooring, roofing and all panelling. This provided Octagon's branding team with a complete, fully weatherproof blank canvas to apply the final finish. The Halo Group specialises in providing ready made solutions for a broad range of project requirements and we are able to offer options to our client that our competitors could not. Free from the constraints of traditional marquees, truss work structures or scaffolding, our design team were able to think outside the box to help our client realise their vision.