Event Production Show Olympia
The Halo Group specialises in modular exhibition stand design. Our system offers unrivalled flexibility within the exhibition market and is suitable for many different uses and purposes. It can be built to almost any size, layout or design and can even be built over multiple levels. Ideal for show organisers, exhibiting brands, venues and suppliers, our exhibition structures are highly versatile and offer new levels of creativity within a crowded market. In 2016 we showcased some our key products at the Event Production Show at Olympia. This year marked our 3rd consecutive year exhibiting at the show where on this occasion we built the main show bar for event organisers Mash Media. This exciting project highlighted many of the benefits of using our modular exhibition stand system and attracted interest from a wide range of different prospective clients from many different sectors.
Our modular exhibition stand design at The Event Production Show saw the construction of a highly functional temporary event space which provided show guests with a comfortable area for networking, meetings and relaxation. Featuring a ground floor deck, on the lower level a bespoke central bar unit formed the focal point within the space which was surrounded by a large lounge area styled with vintage furniture courtesy of our preferred supplier Furniture on The Move. The mezzanine level featured a presentation area and further lounge seating. Designed in-house, our showcase was a big hit with everyone in attendance at the show and attracted one of the highest footfalls of any stand.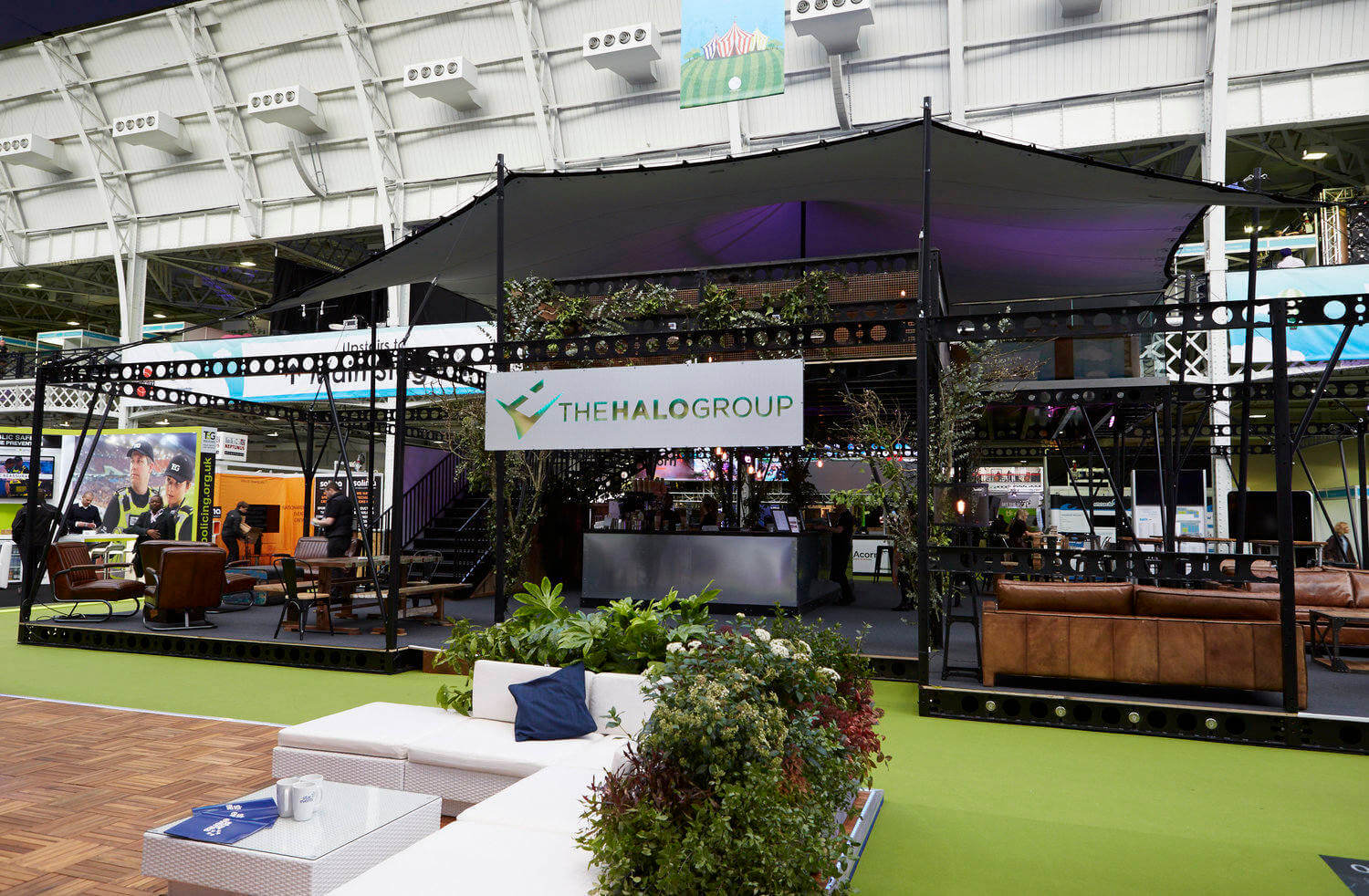 The

Brief

With many different modular exhibition stand designs on show at Olympia, we set out to create something unique which was intended to demonstrate our exhibition structures' versatility for both indoor exhibits and outdoor trade shows. Our temporary structures can be built by hand and do not require heavy plant to assemble making them ideal for creating large space only stands for brands, shell scheme upgrades for venues and show organisers and even temporary mezzanine levels, walkways and access to enable venues to increase the capacity of their event through maximising the usable footprint within any given location. As our system is completely modular it can be assembled to fit into almost any space with multiple staircase and access options also available, The Halo Group is able to create tailor made solutions for many different briefs and purposes. It is this flexibility which has positioned our modular exhibition stand product at the cutting edge of the market.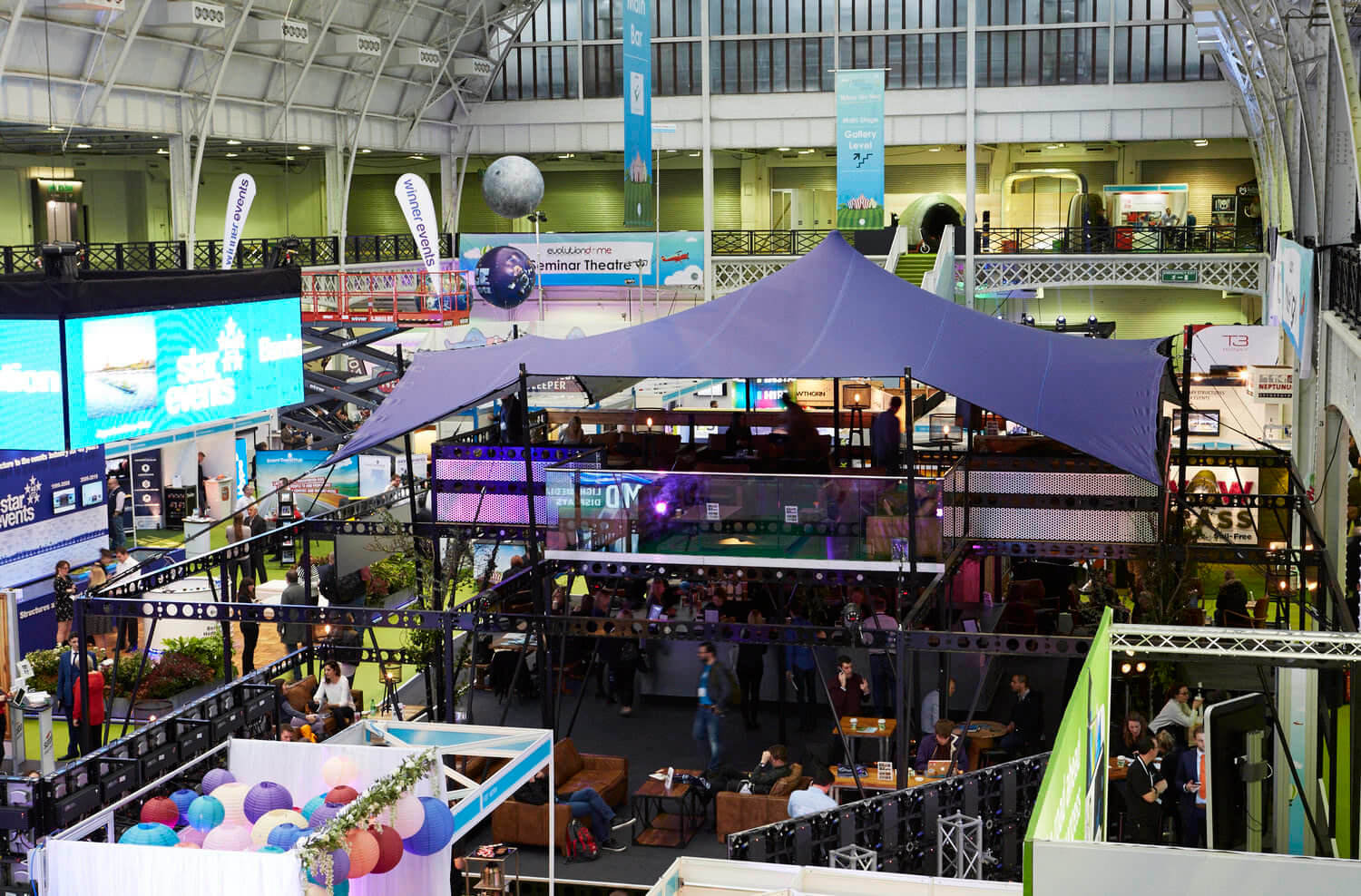 The

Solution

At The Event Production Show 2016, we opted for a minimalist approach to production with the raw steel beams intentionally exposed to highlight our system. Selected cladding finishes were applied in specific areas including industrial inspired copper-mesh, cut metal signage and natural materials such as wood and foliage to demonstrate to suppliers the simplicity of the cladding application process. We also incorporated glass balustrades, chrome handrails and other premium features to highlight different options available to brands. Our exhibition structures can be clad in virtually any material making it the most customisable modular exhibition stand product on the market today. In addition to cladding, almost any production item can be secured directly to our exhibition structures including audio visual equipment, lighting and speakers, thus representing a genuine alternative to traditional rigging, aluminium truss, scaffolding and other similar products. With an M16 bolt hole at every 500mm on every beam, suppliers are able to benefit from this and many other practical features unique to our system. We are able to work in both standard sheet sizes and larger dimensions to stimulate the most efficient build process possible for our team, or 3rd party suppliers hiring our exhibition structures direct. Our in-house design team work in SketchUp, Auto CAD, Cinema 4D and Vector Works so no matter how complex a project's requirements are, we are able to visualise for clients in fine detail how they can achieve the results they require. We are also able offer highly detailed technical drawings to suppliers using our system for the first time.

To complete the activation, partners Intent Productions provided a brand new canopy roofing system perfect for outdoor events and all weather conditions. This specially engineered solution saw a stretch tent anchored directly to the steel frame, thus eliminating the need for ground anchors and guy ropes. As well as our roofing contractor, The Halo Group also partners with a handful of specially selected suppliers to offer a turnkey solution to all our clients when required.

Our system is the ideal product for creating exhibition structures, temporary venues and event infrastructure. From a simple bar unit or temporary walkway to full scale exhibition venue fit outs, our specialist steel build team are experts in our field and are on hand to construct designs to your exact specification. As an agency we operate in the UK, across Europe and globally. Our worldwide logistics partners have been specially selected for their understanding of the Events industry and mirror our commitment to offering a first class service to all our customers, thus giving you peace of mind from contract to delivery.