Night Tales is one of our longest standing clients. Previous projects have included their multi-award winning pop-ups "Tokyo Nights" and "Summer Tales". Their latest permanent venture in Hackney's Bohemia Place has seen two railway arches and a 4,000 sq ft sun drenched garden transformed by The Halo Group into London's hottest new hangout. This exciting bar & restaurant design project utilised many of our core products and services.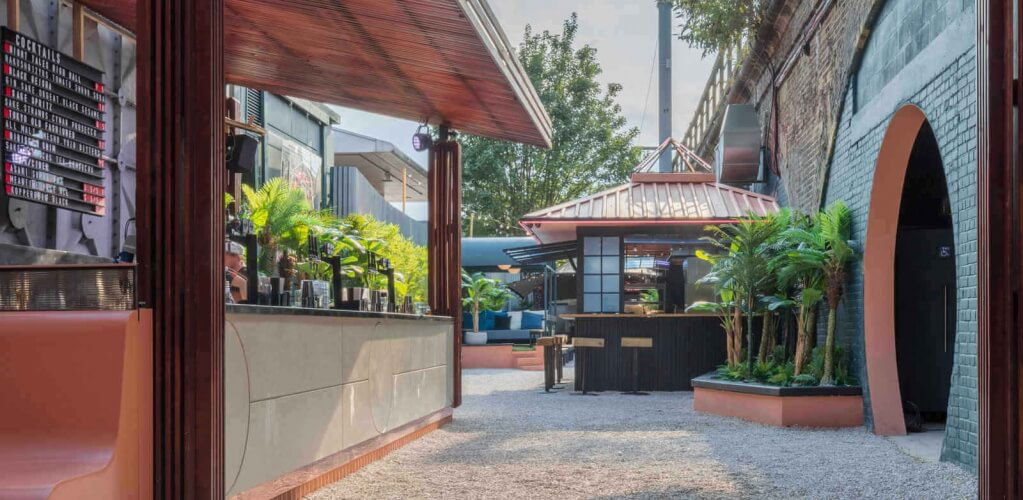 The

Brief

This bar and restaurant design brief required a complete renovation of the site. Two months before the launch, we were given access to a disused Network Rail site with no existing infrastructure. Two weeks of design and conceptualisation were undertaken before starting the construction onsite. Our client wanted to introduce distinct architectural features and creative elements from their partners Sella Concept into our overall site design. The Halo Group was appointed as principal designer on the project and oversaw all elements of the build. The key to this project was combining Night Tales distinct brand identity with our own creative direction into a cohesive end product.
The

Solution

To achieve the end result our in-house design team started by considering the flow and spacial requirements of the site before producing CAD drawings of the space, including all structural elements, furniture design, lighting and architectural features before pre-fabricating each element in our London workshop. Site work started with the installation of ground works & utilities. The site's existing metallic pannels and exposed external wall sections were jet washed and refurbished and additional retaining walls were incorporated in the site. New partition walls were added to divide the space and create flow. Working with the local authorities, fire exit doors and other features were also integrated. Outside, we created covered seating areas and communal benches to provide an informal dining setting. White gravel was then spread throughout the outside courtyard to create a blank canvas for our team to build up from.

The entire venue was spilt into zones with an emphasis on usable outside space. A large steel frame created a bespoke shelter which was fitted with slatted wooden roof & column features which gave the structure its distinct architectural character. Seating booths, designed in-house by The Halo group were created using a laminated Flexi ply carcus before being paint coated. Up-lit, perspex dividers helped break up the space. We also created a bespoke DJ booth using our modular steel system with light weight steel RSJ beams forming the base before cladding it with marine ply and perforated metal sheeting. The outdoor bar was constructed using a metal sub structure, mild steel counter tops and a cosmetic finish created from concrete fibre board panels before adding scallop architraves. Outside, daybeds were constructed from metal frames with panel detailing before being powder coated to finish. The main focal point here was the Japanese street food vendor, Fat Baby, which was housed in a 5.8mx3m Tokyo inspired architectural structure which was designed and built by The Halo Group. In the dance arch, we fitted a bar unit with a metallic clad finish, a main stage area for performances and installed the lighting system throughout the venue.