The Halo Group specialises in the design and build of bespoke structures. During the UEFA Champions League festival, official sponsor Sony Mobile wanted to tap into the excitement surrounding the game by giving fans a unique experiential activation that had Sony Xperia mobile technology at the heart of it. The Halo Group provided our products and services for the activation.
Lead Agency Octagon commissioned The Halo Group to design and build a temporary structure for end client Sony Mobile at the UEFA Champions Festival. This exciting project utilised many of our departments including our in-house design team, bespoke structures knowledge, creative production team and set build department.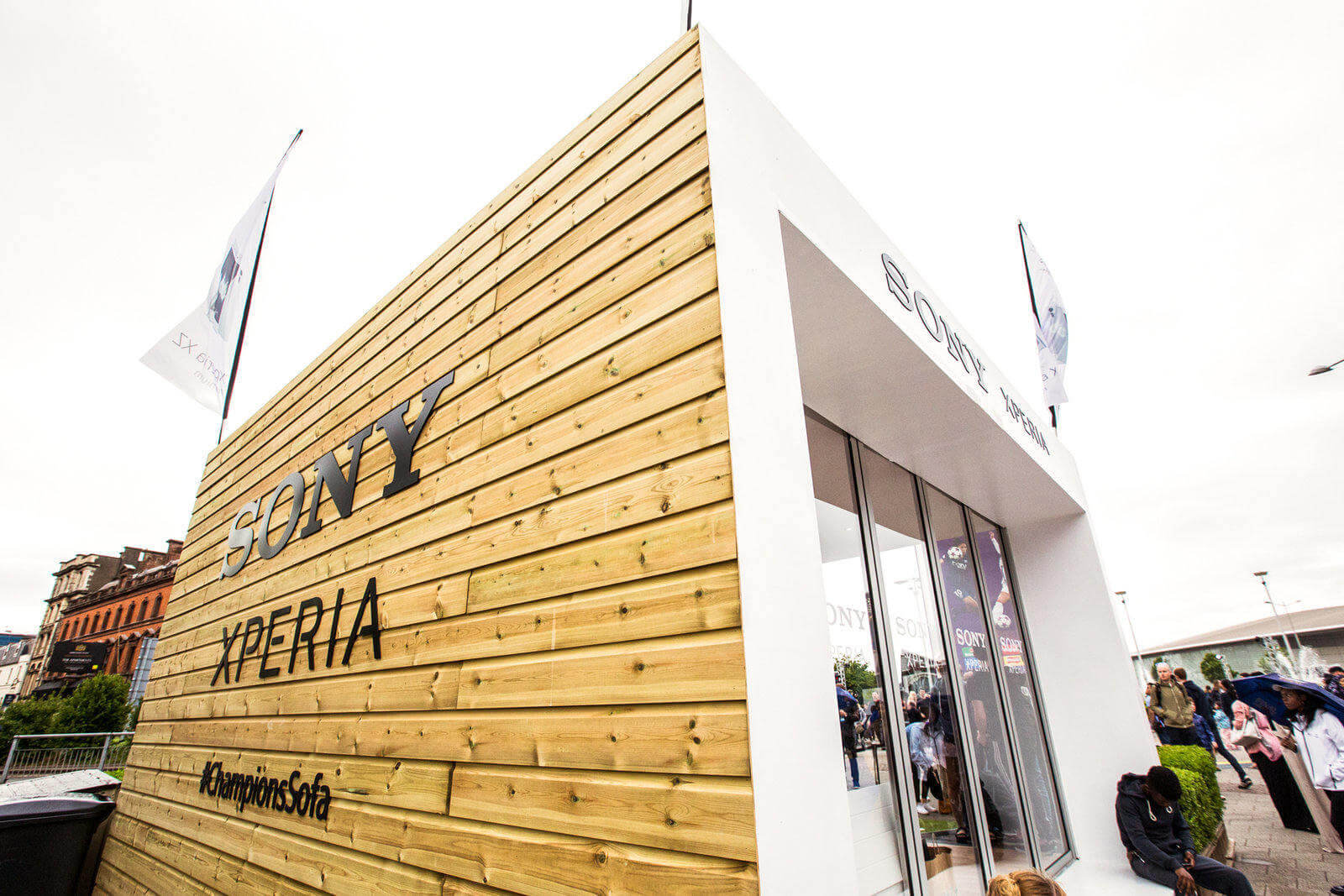 The

Brief

Octagon provided The Halo Group with a refined creative for Sony Mobile's activation. Their vision saw a sleek cabin style structure complete with a glass wall, wood cladding and a premium finish. The overall aim of the activation was to help recreate the highly successful #ChampionsSofa campaign which ran in the lead up to the final. Our job was to provide the setting for the activity within a specially commissioned temporary venue. As with all our bespoke structures, the solution was realised by utilising various products unique to The Halo Group.
The

Solution

To achieve the end result, we used our unique modular steel build system to provide the supporting frame. We use this system to create all of our bespoke structures. Once built, The Halo Group clad the structure using premium Brimstone Poplar timber. A single glazed glass wall constructed from 12mm toughened glass panels helped produce a premium look and feel on the exterior. The finish provided Octagon's branding team with the perfect canvas to apply logos and the campaign hashtag #ChampionsSofa. The interior featured wood effect vinyl flooring, matt white walls & LED lighting helping tie the theme together into a cohesive design. In a nod to the Champions League, an extended area outside the structure featured astro turf and low level seating.