Sony Playstation Exhibition
Our modular structure system offers unrivalled flexibility within the exhibition & experiential markets and is suitable for many different uses and purposes. It can be built inside or outside to almost any size, layout or design and can even be built over multiple levels. Ideal for brands, experiential campaigns, expo venues and suppliers, our temporary structures are highly versatile and offer new levels of creativity within a crowded market. In 2018 we designed and built a bespoke set of temporary structures for FRUKT on behalf of end client Sony Playstation. The build was part of a brand experience and PR gaming expo. This exciting project highlighted many of the benefits of using our system, where we created a bespoke solution that enabled Playstation to create an incredible event space as part of their activation.
This project was centred around the need for a practical solution. Our client had secured a restored industrial style building in East London, but didn't have enough usable floorspace within the venue to create the number of booths required to showcase the different game titles being promoted. A big part of the brief was to create a user journey within the space, and to do so our client needed a structural solution. Our answer was to build 3 bespoke temporary structures with two 5mx20 mezzanine levels connected together by a 10m raised bridge section. Our client also wanted to create a multi-level event space to ensure the activation had huge impact and a genuine wow factor on the day of the event.
The

Brief

Our brief allowed for a maximum of 2 days to build our structure. A vast majority of the build was actually completed in 1 day with minor tweaks and cosmetic works to the structure undertaken on the second day. Build efficiency is one of the major benefits of using our temporary structures. By reducing time onsite we help our clients reduce their budgets through our expertise and knowledge of temporary structure design. Our frames can be built by hand and do not require heavy plant to assemble, making them ideal for creating large temporary mezzanine levels, walkways and exhibition structures within existing venues. Our modular frame system offers venues the opportunity to increase the capacity of their event space and also allows brands to to think bigger, bolder and more creatively when approaching trade shows, experiential activations or outdoor events. As our system is completely modular it can be assembled to fit into almost any space so we can tailor make solutions for a wide range of different briefs and purposes.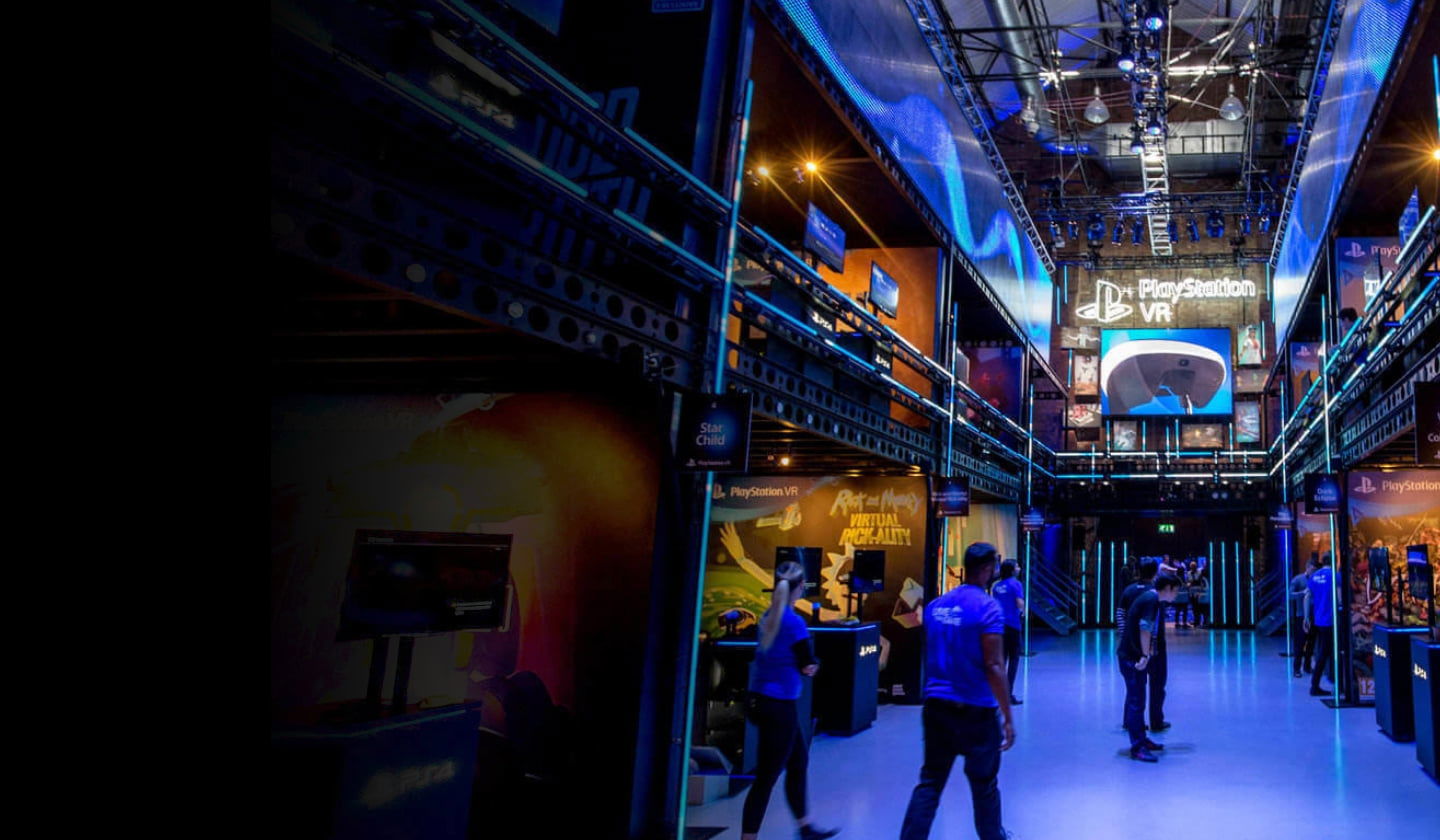 The

Solution

For the Playstation activation our client opted for a minimalist approach to production with the raw steel beams intentionally exposed to create an edgy, industrial aesthetic. The metal frame was then split into booths featuring various different cladding finishes and branding elements. Our temporary structures can be clad in virtually any material making it the most customisable product on the market today. In addition to cladding, almost any production item can be secured directly to our frames including audio visual equipment, lighting and speakers, thus representing a genuine alternative to traditional rigging, aluminium truss, scaffolding and other similar products. With an M16 bolt hole at every 500mm on every beam, suppliers are able to benefit from this and many other practical features unique to our system. We are able to work in both standard sheet sizes and larger dimensions to stimulate the most efficient build process possible for our team, or 3rd party suppliers dry hiring our exhibition structures. Our in-house design team work in SketchUp, Auto CAD, Cinema 4D and Vector Works so no matter how complex a project's requirements are, we are able to visualise for clients in fine detail how they can achieve the results they require. We are also able to offer highly detailed technical drawings to suppliers using our system for the first time. To complete the activation, FRUKT's partners provided the production elements. As a company, we are able to fit in where our clients need us. We are able to clad and finish all our frames but we equally are happy to operate as a supplier.

The Playstation project for FRUKT (part of Octagon world-wide) was the third collaboration with this client in 12 months. Previous campaigns had seen a temporary structure for Sony Mobile, a partially wood clad premium activation complete with glass walls and crisp white panelling built at the UEFA Champions League festival in Cardiff and another two-storey temporary structure for MasterCard also built at the same event. The former was designed and built by The Halo Group and the latter was designed and the frame and cladding built by our team. Octagon's branding team provided the finish for the MasterCard structure, but in both case studies The Halo Group provided a full structural solution. Despite three distinctly different designs, all of these projects used the same modular kit used to build all our temporary structures. These highly successful projects are testament to our incredible build system and our dedicated build team. For more information on any of our products and services, call Ali Watson on 0207 870 3210 or email ali@thehalogroup.test